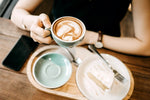 Our beautiful city has a reputation for being a coffee lovers paradise. From the waters' edge to the mountain peak, we have a never-ending thirst for the hot satisfying beverage and its chilly, frothy, frozen friends. 
In Vancouver, our coffee culture is filled to the brim with incredible cafes who serve up a perfectly-pulled espresso, a satisfying pour-over, or a latte with a design that you wish you could replicate at home.
Sipping It Old School
If you are seeking an 'original' experience, Commercial Drive is where you need to venture to. Café Calabria, Joe's Café, Continental Coffee and others, are all serving in old world style.
Celebrating the Innovators 
While INVITO hasn't put together our Top Ten places to enjoy a cuppa, we will share a few lists from those who know. 
Here are our Top 3 Top 10 Lists
1. Vancouver Coffee Snob laid-down their 10 Best Coffee Shops in Vancouver 2021 last December, and has you covered from Lonsdale to Abbotsford. 
2. noms magazine shares their best and beautiful here - 10 Best Coffee Shops in Vancouver to Get Your Coffee Fix 2021. 
3. For when you want a little something on the side, Trip Advisor just updated their 10 Best Cafés list for 2021 and any list that includes purebread and Breka it tops in our books.
Whether you are taking your coffee to go or brewing it at home, INVITO Coffee single-source small-batch roasted beans are available through numerous stockists across Canada and from our online shop.