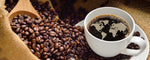 It seems many countries want to lay claim to inventing iced coffee but will we ever know? Maybe yes, maybe no. Nearly every nation now boasts their own unique spin on the basic coffee served with ice. 
Where Are You From Again?
The Algerians claim in 1840, their creation of mazagran, was the original iced coffee. Enjoyed by French soldiers stationed in North Africa, mazagran is a beverage of coffee syrup, cold water, ice, and a citrus wedge or squeeze.
The Viennese are said to have got creative in the 17th Century with bags of beans left behind by the Turks. 
And, then there are the Greeks. Besides owning the claim of inventing democracy and the civilized world, in the late1950s, they got creative with instant coffee, white sugar, and a hand-held frother. Poured over ice and the rest is history.
Our 5 Top Iced Coffees to Try this Summer
1. Es Alpukat Kopi // Indonesia
This satisfying beverage is typically made of a mixture of avocado, vanilla, coffee, and condensed milk. It has a smoothie texture, is served over ice, and is quite filled. Best for breakfast or an afternoon snack for energy.  
Recipe:
½ ripe avocado
1 cup strong brewed INVITO coffee, cooled
¼ cup sweetened, condensed milk
½ cup cold milk
2 tsp vanilla extract
2 cups ice cubes
Blender
How to Make It:
Place everything except the ice into a blender and puree the mixture. 
Divide the ice cubes between two chilled glasses.
Pour half the pureed mixture into each of the glasses.


2. Yogurt Coffee - Vietnam
Understandably, yogurt coffee is a heavier iced beverage. Most often served in the morning as a breakfast option. Popular because it combines the benefits of yogurt, like improved digestion, with the caffeine boost of coffee, but in many cases, the less healthy chocolate syrup is also added!
Recipe:
1 tbsp ground INVITO coffee
300 mL boiling water, divided
100 g plain or vanilla yogurt
1 tsp sweetened condensed milk
70 g ice cubes
A

 

phin* or slow-pushed Fresh Press
How to Make It:
Make the coffee. Place the grounds in the phin and add 80 mL boiling water to soften them. Wait a minute, then fill the rest of the phin with the remaining water and allow it to drip through.
Spoon the yogurt and ice cubes into a tall, chilled glass.
Pour the coffee over the yogurt and ice.
Drizzle the condensed milk on top.


3. Mocha Cola - Brazil
While not the healthiest option at the cafe, those who enjoy it say it is  undeniably delicious, pairing the sweetness of chocolate milk and cola with the bitterness of coffee. It has been described as the love child of a coffee drink and an ice cream float.
Recipe:
1 cup very strong brewed INVITO coffee
12 oz. can of cola
3 cups chocolate milk
Ice cubes divided between 4 chilled glasses
Whipped cream or vanilla ice cream, for topping
How to Make It:
Brew your coffee twice as strong as is recommended and allow it to cool while you assemble the rest of the ingredients.
Mix together the coffee, chocolate milk and cola.
Divide the mixture between the four glasses and top each with ice cream or whipped cream as desired. A drizzle of chocolate syrup would also not be unwelcome.


4. Spicy Mocha - Mexico
Definitely a spicy twist on a classic coffee! For the adventurous who enjoy smooth heat and a lingering warmth in their belly.
Recipe:
4 ounces whole milk
1 tbsp chocolate syrup, or to taste
1 dash hot pepper sauce (no garlic or chili)
ice cubes
4 oz of strong INVITO cold brew
How to Make It:
1. Combine the milk, chocolate syrup, and hot sauce in a glass; stir thoroughly until mixed.
2. Place ice in a second glass. Pour cold brew concentrate over ice. Add the milk-chocolate-chili mixture and stir to combine.


5. Coconut Iced Coffee - Unknown Origin

Looking for a culinary experience that will turn a boring, hot summer afternoon into a delicious adventure? Consider making a Coconut Iced Coffee and enjoy a tall, cool glass of amazing coffee.
Recipe:
5 oz strongly brewed INVITO coffee
1/3 cup coconut sweetened condensed milk
1/2 tsp vanilla extract
2-3 tbsp coconut milk
coffee cubes
coconut whipped cream
1 tbsp toasted coconut
2 tbsp chocolate sauce
How to Make It:
Rim a glass with chocolate sauce. Dip the rim of the glass into toasted coconut.
Add syrup to the inside of the glass, and set the glass aside.
Combine the coconut milk, vanilla extract, and coconut sweetened condensed milk together in a separate glass. Stir until thoroughly mixed.
Add coffee cubes and coffee into this preparation.
Add the mix to the glass with chocolate syrup. Stir.
With these 5 recipes and a desire to break out of your coffee ritual, you may just find your favourite summer drink!