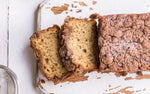 We all love a little loaf with our coffee! Especially, if it is fresh from the oven or straight from the toaster - yes that is a thing.
In the summer, baking plantbased takes all the worry about leaving your deliciousness on the hot counter too long or keeping it in a backpack while you hike in North Vancouver.
Here is our favourite go-to recipe incorporates our amazing fresh-roasted and fresh brewed INVITO coffee.
Coffee Banana Loaf
There is a trick to creating a banana cake that is dense and moist, and that is to make sure to not overmix the batter. The result will be a tough cake or more like a bread. Mix the ingredients only until they are moist and well incorporated.
Recipe: 
For the Loaf
4 overripe bananas mashed
1.5 cup all purpose flour
1 tbsp cinnamon
2 tsp baking powder
1/2 tsp baking soda
1/4 tsp salt
1/2 cup light brown sugar
1 tsp apple cider vinegar
1/4 cup coconut oil or vegan butter
1 tsp vanilla extract
1/2 INVITO Cold Brew
1/4 cup pure maple syrup

For the Streusel Topping
1/2 cup light brown sugar
1/2 cup all purpose flour
4 tbsp coconut oil or vegan butter
2 tsp cinnamon
How to Make It:
Preheat your oven to 375°F, and line a loaf pan with parchment paper.

In a large bowl, combine all of your dry ingredients for the cake.

Create a well in the middle of the bowl, and add in your wet ingredients.

Mix only until all of the ingredients are combined. Pour the mixture in to your loaf pan.

In a smaller bowl, combine all of the ingredients for the streusel topping. Sprinkle over the cake ingredients in the loaf pan.

Bake for 55-60 minutes, until a tester comes out clean. Let the cake sit in the pan on a wire rack for ten minutes.

Gently pull the cake up and out of the pan using the parchment paper, and allow it to cool on the wire rack. The cake will keep for a few days on the counter if it's covered tightly.
The coffee cake will keep on the counter at room temperature for a few days if it's tightly covered. And if you really want to make it over the top, serve it warm topped with a couple scoops of dairy-free ice cream.