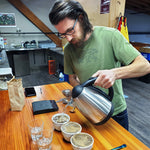 Coffee is more than just a hot beverage people drink to start their day! For many people it is a delightful beverage offering endless adventures. We love that some people are generous enough to share their bean adventures with others through blogs (like this one), videos, or informative podcasts.


If you love coffee-theme podcasts, in particular, check out these four. Varied in theme and style, they are all perking up fresh aromatic goodness!
Bits and Bytes is hosted by Jean Yoon from Launch, where she connects with others in the start-up community using food as the catalyst. In this episode, the Vancouver Coffee Snob - Tom Fitzgerald - hops on and shares his journey as a startup founder tackling the Vancity's coffee scene.
Where coffee and conversation meets culture and curiosity. Served up with all the Canadian content you didn't know you needed. Hosted by Steph Z and her side-sipper Eydie, this new series started in mid-2021, is fun with a lot of conversation. In Episode 2: Second Cup: Altitude Coffee Roasters - Bad Ass Babe Blend - A Caffeinated Review! our favourite quip: "I didn't spit it out, it was too good!"
Hosted by Jon Patterson and Joshua del Sol, Why Coffee is a Canadian-made, bi-monthly conversational podcast, where we chat with a variety of folks in Coffee about themselves, and various subjects in the realm of coffee and beyond. With over 25 episodes to dive into, Why Coffee? covers a lot of ground, from Asian vending machine coffees to health benefits to Columbian coffee scientist. 
A special edition devoted to nothing but coffee. Hosted by Richard Wolak, this podcast shares his annual coffee drink challenge - that runs every January - to the newest cafes that have opened to food truck service, to his favourite roasters in the city. It is in-depth and perfect listening for anyone who cherishes west coast coffee culture.
Along our own coffee journey we have discovered many podcasts of all kinds, and hope you do the same. Seeking adventure, even if it is just for our ears, is a worthy pursuit.