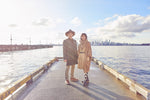 Supporting local ventures and sustainable practices are a big part of the work ethic and lifestyle of VOICE founders YUSHiiN and MINA. Together they are supporting and giving a voice to as many small businesses who are keeping it together and surviving these turbulent times. Follow the duo on Instagram @yushiin_labo_ as they meet and share the voices of over 100+ small businesses that call the west coast home.
Their newest voice that is being amplified is that of our co-founder Yaro Yasel. 
Here are a few highlights.
"If it wasn't for the Covid, if it wasn't for Yaro getting laid off, and if it wasn't for his family coffee farm in Costa Rica, the story of Invito Coffee would not have begun. In pre-pandemic times, Yaro was a full time airline pilot. Before his flight, he would get his usual Starbucks coffee at the airport and that was the only coffee he had ever known. As he started going to local roasters and trying speciality coffee, that was when a whole new world opened up for him. Through tasting roaster after roaster, and getting formal coffee education, coffee has become his second passion after flying."
"Yaro(Y): "One advantage of being an airline pilot was when you are off, you are off. So, on my days off, I would take classes at Vancouver Coffee Academy on Granville Island and I started learning about coffee step by step. Before then, I knew nothing about coffee! My father has been living in Costa Rica and he and his business partner acquired a 42 hectare coffee plantation 5 years ago. That's when my coffee journey really began. It took almost 4 years to reshape and replant the land, and when we were ready to bring the coffee beans to Canada in 2019, I helped on the logistics, our zero-waste branding, and compostable packaging side of the business. That, I think, was the legitimate formation of what Invito Coffee would be."
Click here to read the full interview and support YUSHiin and MINa as they share more stories!