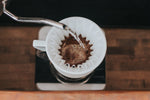 This morning, as you poured your first cup, did a little voice in your head softly whisper – Good Morning, Caffeine?
Seems like everyone is talking about caffeine these days. Baristas tout the strength of nitro, iced coffee, and cold brew, but which is what and how much is enough?
Calculating the Caffeine
There is a generality that a cup of freshly brewed coffee contains roughly 16mg of caffeine for every 1-ounce of coffee. That puts a 12-ounce cup of drip coffee having roughly 195mg of caffeine. Caffeine level is based on how the beans were roasted, the elevation they were grown at, and how the coffee was brewed.
Decaffeinated vs. Uncaffeinated
What comes as a surprise to many coffee-lovers is that decaffeinated coffee isn't really 'uncaffeinated' coffee. The same 12-ounce cup of decaf – depending on the process used to remove the caffeine – commonly contains around 5mg of caffeine. Then there is espresso with several factors to consider but assume that every ounce of espresso you enjoy contains 50mg of caffeine. So, while caffeine is definitely more concentrated in espresso, the overall total is higher in a cup of black coffee.
Need Expert Advice?
Our founder, Yaro, is a bit of a coffee expert and would love to answer your questions about our Costa Rican offerings - Medium Roast, Espresso, Decaf, and Peaberry.
Having difficulty deciding? Try an INVITO Sampler of our two most popular beans – Medium and Espresso Roast – fresh roasted every Wednesday and shipped/delivered in zero-waste compostable packaging.